Migration Alert! Waterfowl are on the move from Canada and the Great Plains!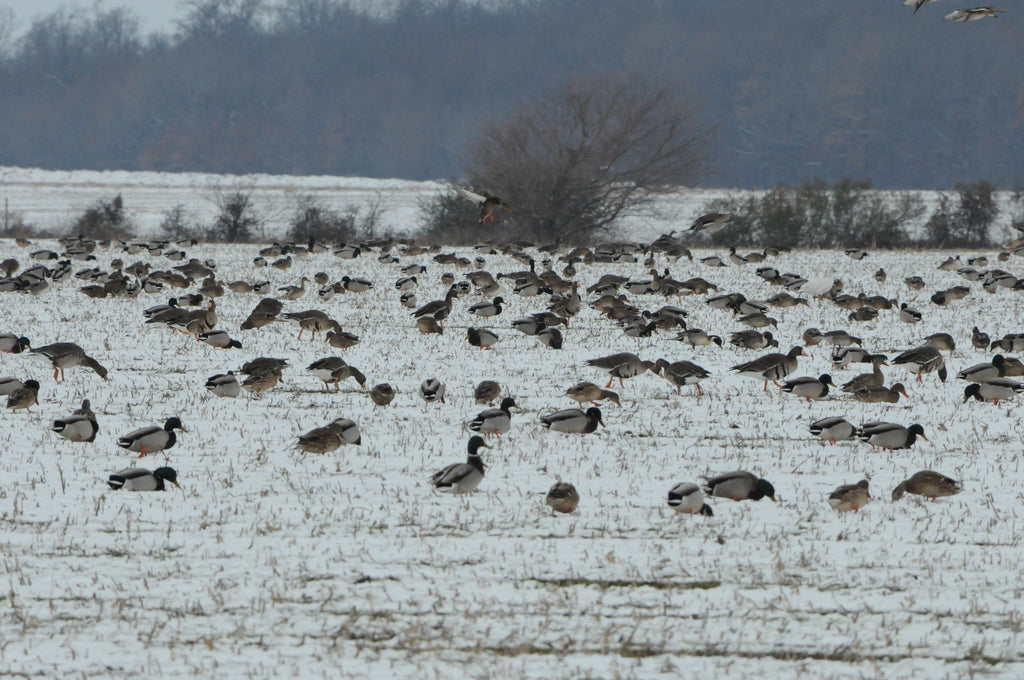 November 12, 2022
The Canadian Prairies are freezing and Thursdays 20+ inches of snow across North Dakota have waterfowl on the move. These conditions could set the table for a Grand Passage of waterfowl in the coming days. With highs in the teens and lows in negative numbers in some areas, most, if not all, waterbodies will freeze over the coming days, in Canada and the Upper Midwest forcing even the hardiest species to head south. This is great news for Confluence waterfowlers who are ready for new birds to reach the region.
The Forbes Biological Station flew the latest waterfowl survey on Monday, November 7th and staff lead Josh Osborn reported the following:
"They're here and in good numbers. We seem to be holding onto our early migrators while also building numbers of mallards with divers trickling in as well. I estimated 404,980 ducks in the Illinois River Valley this week, 5% abovethe10-year average (386,236) for this river. The Mississippi river saw a large bump as well. I estimated 428,735 there this week, 16% above its 10-year average."
You can see Josh's full report here.
Those survey numbers themselves are good news for Confluence waterfowlers however, if you have been out, you know early migrants are beginning to leave and the mallard numbers have been lagging with Missouri's watefowlers ready for their return. That return looks to be on the horizon in a big way as we see snowfall and freezing temperature across the Great Plains, upper Midwest, and even into mid-latitude portions of the Central and Mississippi Flyways. 
Dr. Mike Brasher, Ducks Unlimited's senior waterfowl Scientist reports the following. "This weather system pushing south will certainly trigger additional migratory movements. As we look at the snowfall and temperatures across the Great Plains, Upper Midwest, and even into the mid-latitude portions of the Central and Mississippi Flyways, this timely cold front is something duck and goose hunters should be paying attention to."
Temperatures here in the Confluence have dropped into the 40's with lows below freezing for the next 10 days. As these conditions line up it appears we could see a Grand Passage in the next week. With rifle deer season now open this cold front will also be good news to deer hunters.
Whether we see a Grand Passage and increased deer movement, we hope you can get out and enjoy nature's bounty, fall migrations and the hunting heritage we so ardently work to protect.
We wish you a safe and great fall season and thank you for your continued support.
For the Confluence,
Mike
Reference QuickLinks