GRHA Partners on 1,531 acre Wetland Project at Clarence Cannon NWR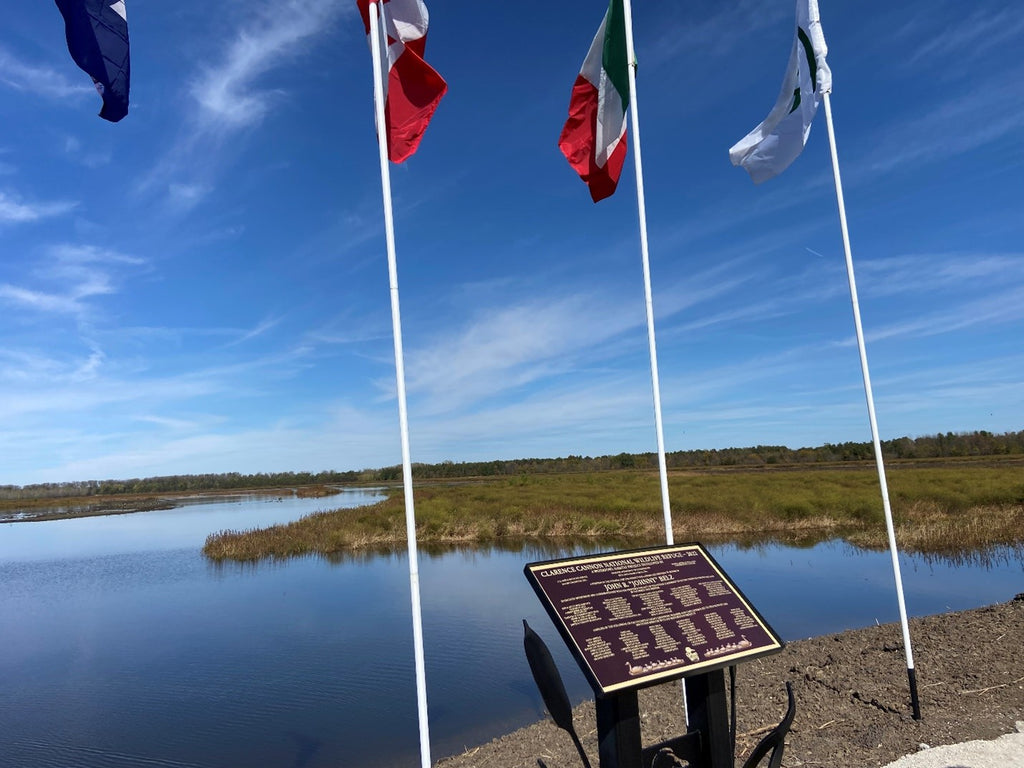 On October 15, 2022, Great Rivers Habitat Alliance, Ducks Unlimited (DU), and the U.S. Fish and Wildlife Service celebrated the conservation work of St. Louis native John R. Belz (1941-2013) at Clarence Cannon National Wildlife Refuge (NWR) just outside of ANNADA, Mo. with a plaque dedication for a project completed in his honor.
The 3,750-acre Clarence Cannon NWR is on the floodplain of the Mississippi River, adjacent to Pool No. 25 in Pike County. The refuge's diversity of habitats supports waterfowl, wading birds, shorebirds and songbirds. Clarence Cannon also provides habitat for over 200 species of migratory birds, and duck populations can exceed 100,000 during fall and spring migrations. 
The newly named John R. Belz wetland project (1,531 acres) improved water management capability and restored the refuge's natural water flow patterns and drainage regimes. This project included replacing an outdated and failing refuge pump station, reconfiguring wetland management units, installing wetland management units and installing a new water-control structure. This work aimed to restore natural water flow to the refuge while also reducing flood damage to levees during flood events. The results are improved habitat conditions and food resources for several priority wildlife species and a reduction in annual maintenance and costs associated with managing the refuge. 
For more than 40 years, Belz served as a volunteer and a staff member at DU. He was also a supporter of GRHA. Johnny grew up hunting ducks in the Mississippi River backwaters at his family's hunting grounds near St. Louis, so it was no surprise that he championed DU and GRHA's efforts including the Big Rivers Initiative, an ongoing program to improve critical habitat along the Mississippi River floodplains and its network of tributaries. 
"You could rank Johnny as one of the most passionate conservationists on the planet. He always said, Conservation without money is just conversation. He loved the Confluence, and we are proud to partner with DU in recognizing Johnny at such an important project" said GRHA Executive Director, Mike Checkett.
You can visit Clarence Cannon NWR and the new wetland project seven days a week during daylight hours. The Headquarters is open Monday-Friday, except federal holidays from 7:30 a.m. – 4 p.m.